Tough. Ready. Scalable.
Seagate's latest Ironwolf NAS drives offer industry leading quality at great prices. Bring new life to your network attached storage and unleash the full potential of your data. Designed to be always on and always working, Ironwolf is further enhanced with AgileArray™ technology for increased system agility and reliability.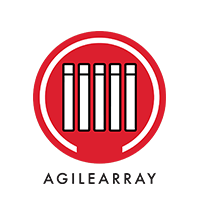 Built into every IronWolf NAS drive is Seagate's own innovative AgileArray™ technology which enables dual-plane balancing and complete RAID optimisation in environments supporting multiple bays. This is an essential ingredient for multi-user environments which demand 24x7 accessibility and snappy, reliable performance.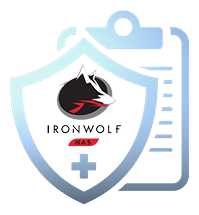 IronWolf Health Management
As with any network storage set-up, reliability is needed. The IronWolf excels in this, using their own Health Management system, Seagate have given you the tools to monitor and manage your drive constantly. Focusing on preventing loss of data and recovery this pushes the boundaries of securing your data.
You can also set the drive to notify you if any errors are flagged up in the system with the DiskStation Manager 6.1 included in the software package. This attention to detail is why Seagate are the pinnacle of NAS storage and why the IronWolf will be perfect for you to boost your work rate. Seagate have maximised the potential when in a RAID configuration with Error Recovery Control that redefines responsiveness and combat lag to give a quick, clean user experience where required.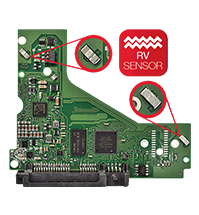 Multi-Bay and NAS-Ready With Built-In RV Sensor
Safeguarding against any kind of loss of data is paramount to Seagate and their RV sensors add another layer of security to the drive. Rotational Vibration sensors manage multi-bay vibration and long term degradation to allow the drive to maintain a consistent performance over a long period of use.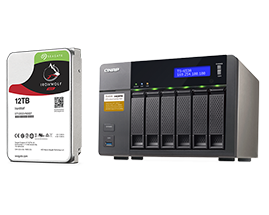 The IronWolf can be completely operational 24/7 in terms of accessing data and can handle a workload of around 180TB per year, making it just as proficient when handling hours of movies for your home cinema, or sensitive documents at work. The Ironwolf has a 3 year warranty and is available in sizes 1TB, 2TB, 3TB, 4TB, 6TB, 8TB, 10TB and 12TB
Key Features
| | |
| --- | --- |
| Disk Capacity | 8 TB |
| Interface Type | SATA III |
| Drive Interface | SATA III |
| Cache Memory | 256 MB |
| Disk Form Factor | 3.5 |
| Interface Type | SATA III |
| Condition | New |
| Disk Speed | 7200RPM |
| HDD Purpose | NAS |
| Recording Technology | CMR |
Warranty
Storage
Item Details
| | |
| --- | --- |
| Manufacturer | Seagate |
| Manufacturer Code | ST8000VN004 |
| EAN | 8719706009812 |
| Condition | New |
What happens after I've placed an order?
Once you place an order with us you'll receive an email confirmation listing all your items ordered. You should keep this email for future reference as it also acts as your invoice. We then start to process your order; the order is transmitted to our paperless production facility, built, checked for quality, handed to our installation engineers who then proceed with setup of any software you've ordered, then run through our burn-in and stability tests, checked once more for quality and finally it's handed to our dispatch department who will pack the order and book it in for delivery. Depending on how busy we are this entire process takes around 3-5 working days. 
What delivery options are available?
Standard weekday deliveries to UK mainland addresses are free of charge
FREE UK Delivery - UPS/DPD Tracked
The majority of orders are sent by DPD courier (www.dpd.co.uk) who provide a fully trackable service. For orders being sent to UK mainland addresses you'll also benefit from DPD's Predict service - assuming you provide us with a valid email address and mobile phone number you'll receive email and SMS notifications from DPD in the morning before delivery with a predicted one hour delivery slot. If this slot turns out to be inconvenient you can re-arrange the delivery for another day, just by replying to the email or text message.
PEACE OF MIND 3 YEAR WARRANTY
When purchasing our computer you will get a 3 Years Warranty as standard, you have the peace of mind in knowing that there will be no cost involved should a problem occur with your hardware - you can simply box up the computer in its original packaging and our courier will call round on a working day convenient to you to collect the computer. We will then repair your computer and return it to you free of any carriage charges. (Software not including e.g. Windows 10 Operating System etc)


WARRANTY EXCLUSIONS
Operating Systems including third party software
Accidental Damage.
General wear and tear, misuse, neglect or damage by the buyer.
Incorrectly installed goods.
Overheating due to excessive dirt/dust build up.
Consumables (Ink Cartridges, batteries, etc).
Data Recovery & Backing up of data, files and programmes.
Remedy of incorrectly installed/incompatible software which is not provided
Remedy of viruses.
Compatibility of 3rd party software/hardware.
NOTICE:
If we find the computer to be damaged by the software and not the hardware, we still will fix this for you (ALL DATA WILL BE LOST), but this will involve a labour charge of £59.99 plus the delivery charge of £14.99. But of course we will confirm this with you in advance.